Ready-to use test kit containing IDRing® plates, calibration set and the IDRing Viewer-S plate reader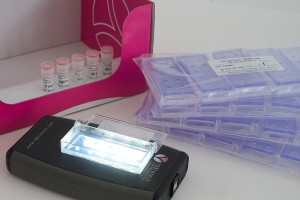 Our Starter Kits IDRing® is a kit containing 20 IDRing® plates, a set of standards, a dilution buffer (if necessary) and the SRID plate reader IDRing® Viewer-S.
It is an optimal solution for the implementation of our IDRing® kits for occasional uses or for the analysis of samples in limited numbers.
The SRID plate reader IDRing® Viewer-S allows an optimum visual measurement of ring precipitates on the IDRing® plates. An Excel file is sent by e-mail upon delivery of the kit in order you can perform an automatic calculation of the results after transfer of the measured ring diameters.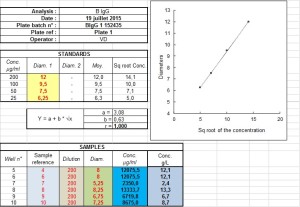 The Starter Kits are available for the entire range of our IDRing® plates.

Storage temperature: Reagents: + 2° C to + 8° C – SRID plate reader: room temperature
Precautions: Do not freeze
Shelflife of reagents: 10 months
Reader Warranty: 1 year
Available for all our IDRing® SRID plates