Rapid test for the detection of raw and heated cow's milk in other milk species
The Cow Milk Express is a latex agglutination test that allows to detect, in only 2 minutes, the presence of cow's milk in goat's and sheep's milks.
The test is based on the specific detection of bovine beta-lactoglobulin (BLG) in the sample using a specific monoclonal antibody.
Thanks to the resistante of beta-lactoglobulin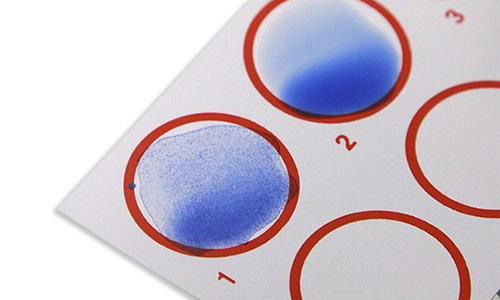 to thermal denaturation, the Cow Milk Express allows to detect the presence of raw cow's milk, but also pasteurized and sterilized cow's milk. This makes the Cow Milk Express the only rapid test currently available on the market for the rapid detection of adulteration of milk using heated cow's milk.
The Cow Milk Express can also detect the addition of bovine milk and whey powders in the sample analyzed.
Detection limits are
0.25% of raw cow's milk
and
1% of sterilized cow milk
in only 2 minutes.The Cow Milk Express is intended for whole, semi-skimmed and skimmed milks as well as for whey.
Application: Raw, pasteurized and sterilized milks – Milk and whey powders
Shelflife: 36 months from the date of manufacture
Detection limit: 0,25% of raw milk – 1% of sterilized milk
Precautions: Do not freeze
Storage temperature: + 2° C to +8° C
Sale unit: 30 tests ans 120 tests